guided culinary Hikes
The best way to discover the National park region of Saxon Switzerland
The best way to discover unknown territory is to walk on your own feet and eat traditional local food. After travelling the world, I'm finally back home in this beautiful national park area of Saxon Switzerland. In January 2020, I've founded my own business to show now my home to the world. Follow me on my most favorite hiking trails off the beaten path. I'm inviting you to the most delicious picnic made of 100% local goods.

Join in and enjoy!

Owner & founder of BrotZeitTour, Kristin Arnold
Public HIkes with BrotZeitTour:
The name includes it all – Brot (Engl.: bread) – Zeit (Engl.: time) – Tour (I guess that's international). So let's say a BrotZeitTour is a "time for bread hike".
So on this hike, there is enough time to enjoy fresh, handmade bread with all the lovely, delicious extras it comes along with.
What awaits you:
A delicious, seasonal 3-course-picnic on each BrotZeitTour
100% local food:
Enjoy crispy bread, hearty cheese, fresh fruits & vegetables, seasonal cake and much more.
All picnic ingredients are produced by small owner-managed businesses or farms within the region (20 km reach).
These gentle hikes are perfectly made for everyone who loves easy but high-quality food.
On tour, we take our time for extended breaks. Ideal for beginners and part-time hikers.
At least 4 public guided hikes each week.
Tour duration approx. 4-5 hours (2-3 hours walking time)
No minimum number of participants required.
In small groups of max. 8 persons individuality is guaranteed.
Insider tips for your holiday included.
Meeting points are easily accessible by public transport.
All tours are round-trip.
Bi-lingual German/English guided hikes. Feel free to join in!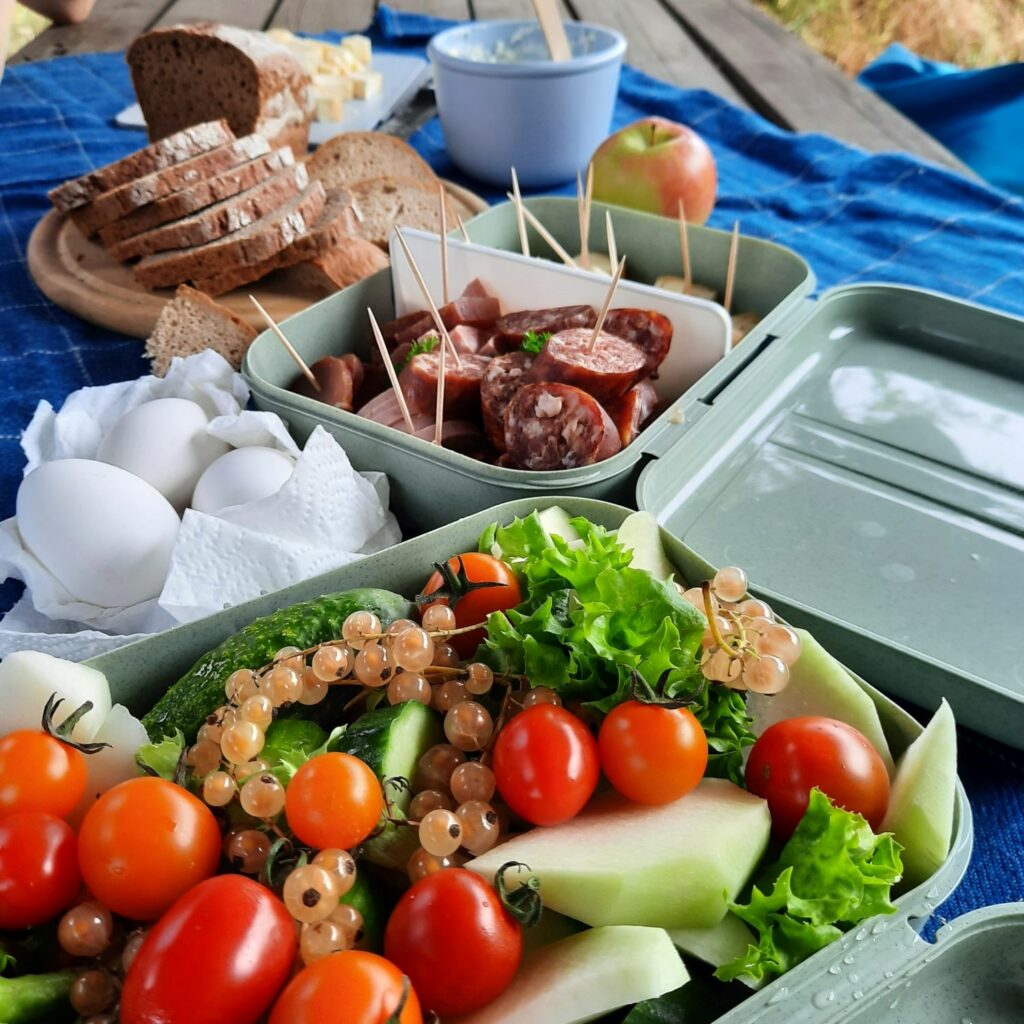 Weekly tour overview – Summer 2023
A "BrotZeitTour" is the most delicious way to discover the national park area of Saxon Switzerland.
Every tuesday (STart Apr, AUG & Sept at 15:30; May to July at 16:30; Oct at 14:30)
Dinner Picnic in the evening lights on top & around the sandstone rock of Gohrisch
Guided gentle hike starting / ending in the small town of Gohrisch high above the Elbe river valley. Most of the time we will follow easy trails crossing fields and forests. To the top of the rock, we'll take some stairs and a very few, short ladders. This tour combines all, Saxon Switzerland has to offer: narrow rocky trails and easy field paths with stunning views highlighted with a 3-course picnic dinner made of 100% local food.
Duration of approx. 4.5 hrs / 2-3 hrs walking time / distance of 9km (6 miles) / 220 mhd
Every Thursday (Start Apr & AUG at 16:00; May to JULY at 17:00; Sept at 15:00; OCT at 14:00)
Dinner picnic high above the town of Bad Schandau with a 360° view
Starting right at the river Elbe in Bad Schandau, this tour will give a short review of the region's touristic history. Crossing parks and bridges, we will take some ladders up to an enchanting plateau. With a 360° view of the Schrammstein rocks and all the magnificent mesas such as Lilienstein, Fortress Königstein etc. we will enjoy our delicious dinner picnic made of 100% local goods. A sweet bite at the end of the tour is included, of course.
Duration of approx. 4.5 hrs / 2-3 hrs walking time / distance of 9km (6 miles) / 190 mhd
Every Friday (Start Apr to OCT at 10:00)
Hidden rocks and stunning views above the entire national park area
This tour is one of my personal favorites off the beaten path starting at the secluded village of Cunnersdorf (close to Gohrisch). It follows shady, fragrant trails in the middle of a thick forest and takes us up to three small but rocky peaks overviewing the entire national park area right across. On top of every peak, we will enjoy a bite of local food, starting at the first with something small but seasonal, followed on the second by a hearty picnic and on the third peak finished with a slice of handmade cake for dessert.
Duration of approx. 4.5 hrs / 3 hrs walking time / distance of 10km (6.5 miles) / 290 mhd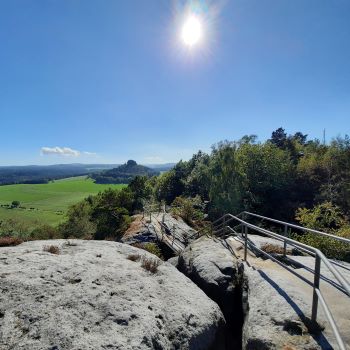 Every Sunday (Start Apr to Oct at 10:40)
Sunday outdoor brunch hike to Kaiserkrone & Zirkelstein
If you would like to start your Sunday a little different but active, healthy and not less yummy, this short half-day hike seems to be perfect for you. Right across the magnificent Schrammstein-rocks, we start our tour in the small village of Schöna. Taking easy field tracks with beautiful panoramic views, we will conquer the small peaks of "Kaiserkrone" and "Zirkelstein" overviewing both, the Saxon and Bohemian part of the national park area. 3-course-picnic included.
Duration of approx. 4 hrs / 2.5 hrs walking time / distance of 7km (4.5 miles) / 190 mhd
Each TOur: 49,00 EUR per person
including a half-day guided hike with a healthy, delightful 3-course-picnic in a small group of max. 8 persons
You'll get detailed information on the meeting point, public transport connection and any other required information with your booking confirmation.
If you'd like to precheck availability, have a look at TOURKALENDER (only available in German). If your date of choice still shows free tickets, feel free to join after registration below.
Only if your date of choice is on status "ausverkauft" means this date / this tour is sold out.

Private Tour with BrotZeitTour
You would rather have your own English-speaking "BrotZeitTour" and the undivided attention of a private hiking guide for a few hours or the entire day?
Feel free to book your private tour that fits your itinerary.
Rates Guidance ONLY or Private BrotZeitTour (Hike & Picnic):
150 EUR – short hike / guidance up to 3 hours
200 EUR – half-day hike / guidance for more than 3 up to 5 hours
250 EUR – full-day hike / guidance for more than 5 up to 8 hours
You would like to try delicious local food and make your private tour a real BrotZeitTour*?
A private BrotZeitTour includes guidance and a 3-course-picnic for just 20 EUR per person.
Sample calculation:
Private BrotZeitTour half-day for 2 persons = 200 EUR guidance + 2x 20 EUR picnic = 240 EUR (120 EUR per person)
Private BrotZeitTour half-day for 5 persons = 200 EUR guidance + 5x 20 EUR picnic = 300 EUR (60 EUR per person)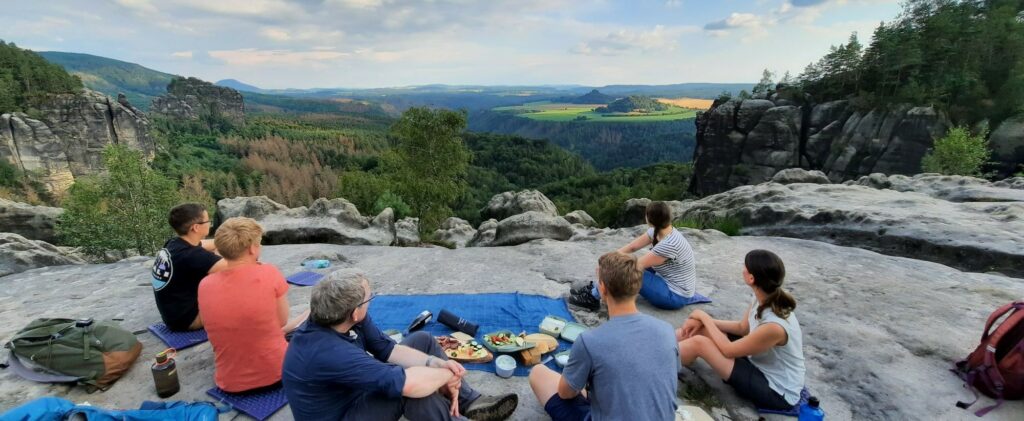 Select your tour of Choice:
direct connection to brotzeittour
BrotZeitTour – regional. hike. enjoy
founder & owner Kristin Arnold
based in Reinhardtsdorf / Bad Schandau